• Apogee Rosetta AD 48K Converter •
Description:
Here's your chance to own a professional, studio quality analog-to-digital converter at a great price!
Apogee Rosetta AD 48K professional analog to digital converter. I used this to record some of my vinyl records and it was perfect for that application. With switchable gain from +4dB to -10dB and fine gain adjustments on the front panel, it was easy to dial in the perfect level for recording vinyl.
The Rosetta AD features analog inputs operating at pro or consumer levels, balanced or unbalanced. The highest quality Apogee 24-bit conversion drives two AES/EBU outputs so you can feed two machines at once. In addition, ADAT, TDIF, and S/PDIF coax/optical interfaces are all built-in, for the absolute maximum in quality and flexibility!
Apogee´s renowned Soft Limit technology allows you to record at the maximum level without overs, while our new high-resolution UV22HR process allows you to generate flawless 16- and 20-bit masters retaining as much of the original 24-bit resolution as possible. Apogee´s exacting analog and digital design assures top audio performance without compromise, including excellent stereo imaging and transparent sound.
The sound quality of Apogee converters is legendary. Their UV22HR 16 and 20 bit processing is used on many CD's for final mixes. Chances are, you own quite a few CD's that were mastered using an Apogee Rosetta AD converter.
The Apogee Rosetta AD makes a great master down-mix A/D converter to give your music extra clarity and punch that only professional rack gear can provide! It's also a great choice for capturing and archiving vinyl records and analog tapes.
In fact, this AD converter was used to capture the audio for some of my YouTube videos. To see and hear it in action, search for BSD2000 on YouTube and look for the Rush - "Big Money" and Diahann Carroll - "There'll Be Some Changes Made" videos.
Note: This item was originally owned by Frankie Spellman and was used for major film and TV productions. Own a piece of Hollywood history!
Professionals use Apogee conversion daily to make records in top studios. Give your DAW a major boost in sound quality!
Features:
• High quality Apogee 2-channel 24-bit A/D conversion
• 44.1/48K @ 16, 20 (UV22HR) or 24 bits (ROM chip upgradeable to 96K by Apogee)
• Word clock out (BNC) with Apogee's highly accurate internal clock
• Ideal for project studio recording and mastering
• 2xAES/EBU, S/PDIF (coax), ADAT optical (S/PDIF switchable), 25 pin TDIF digital output interfaces
• Accepts +4dB (XLR) or -10dB (consumer, line level) signals (gain switch on rear)
• User-definable 'over' indication
• Adjustable fine gain for each channel, accessible from the front panel
• Soft clipping feature adds 4dB of headroom
• Apogee's famous UV22HR 20 bit audio processing for higher resolution 44.1K masters
• 13 segment LED meters with 'over' LED's and reset button
• Updated to the latest v3.0 firmware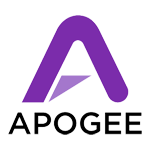 Specifications:
Resolution
: 24
Sample Rate
: 44.1K - 48K
A/D Chipset
: Crystal/Cirrus Logic CS5398-KS
Dynamic Range
-60dB, Unweighted
: 116 dB
-60dB, A-weighted
: 119 dB
Peak Spurious Component
: -126 dB (max)
Channel Speration
Left/right
: 120 dB (worse case)
Connections
Analog input
: XLR (+4dB/-10dB switchable)
Digital output
: AES XLR • SPDIF coax • ADAT optical • TDIF
Clock
: BNC WC Out
Frequency response
: 10Hz - 20kHz
Size (w, h, d)
: 19 in, 1.75 in (1U), 14.25 in
Weight
: 6 pounds
Power
: 15 Watts
Included:
• Apogee Rosetta AD converter
• Power cable
• Printed manual
Condition:
Used, good condition with signs of wear on the rack ears; some scratches on the top and bottom (not seen when rack mounted). Works perfect. Apogee studio quality!
Photos:
Make sure you add us as a favorite and watch for future auctions!
| | |
| --- | --- |
| | Vinyl Records |
| | DAT Tapes |
| | Cassette Tapes |
| | Audio Gear |
| | Musical Instruments |
| | Pro Audio Equipment |
| | And more! |
Don't get outbid at the last second, place your bid today!
North America (USA and Canada) bidders ONLY please! All other bids will be rejected - sorry!
"Buy It Now" listings require immediate payment through PayPal.
Winning bidder must agree to my payment and returns policy.
We can only ship to North America (USA and Canada) buyers only.
Items are shipped using either USPS, UPS or Fed-Ex. We primarily use US Postal Priority Mail to ship items purchased in our store. I ship Monday through Friday, usually the following business day after payment has cleared.
WE WILL ONLY SHIP TO THE PAYPAL CONFIRMED, VERIFIED ADDRESS
Buyer is responsible for being home or arranging delivery. If a package is returned, shipping charges will be deducted from refund.


We accept PayPal ONLY. Payment is expected in 7 days. We will ship your item within 1 business day of receiving cleared payment.
Returns
We understand that from time to time, the need to return and item may occur. Please read below for a detailed overview of our return policy.
• If you have a problem, please contact us FIRST, BEFORE leaving negative feedback.
• Returns for refund are accepted for the first 14 days after the buyer receives the item. The buyer is responsible for return shipping fees and all shipping fees are non-refundable.
• We only accept returns for items that are DOA, or if the item is significantly not as described per ebay guidelines.
• All items are tested prior to shipping. The item must be returned in the same condition it was received.
Users found this pages searching for: